Today we have mystery writter RR Gall sharing his insight into the world of writing. Find out what he has to say and enter to win a copy of one of his books on our Giveaway page. For more inforamtion, be sure to check out his
Website
.
What made you decide to go Indie and self-publish?
It's the way forward. There was a change in the market.
What do you think is the benefit of going Indie and self-publishing your own work?
Setting the timetable. Going at a speed that suits and not rushed. I have a fairly rigid routine but some stories just take a lot longer to write.
What do you think is the biggest challenge an Indie author faces?
Finding readers. Getting the word out there.
What are you working on right now?
I have just finished A Different Place To Die. It is a police procedural, with a twist, set in Scotland. The main characters are an odd duo. I very much enjoyed writing their sparky relationship. Hopefully, by the end, the story will give the reader something to think on.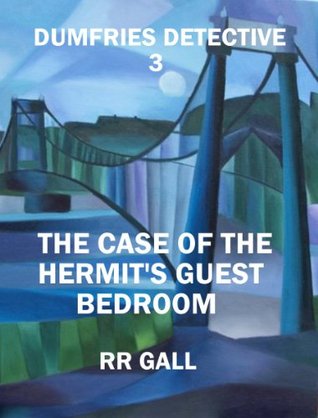 What advice can you share with other Indie and aspiring Indie authors?
You're on the right track when you know you've taken a wrong turn.
Which authors inspire you?
Graham Greene, Philip Pullman, Robert Wilson, Brian Moore, and plenty of others.
What genre are your books?
Why do you write in the genre that you do?
The crime (murder) gives me a hook to hang the characters on.
How much research do you do when you write?
The Wrath Inside needed a lot because it is set in 1st century Palestine and I wanted it to be accurate: I needed to find the small details of everyday life: how the ordinary person lived.
The Dumfries Detective Trilogy needed little research: I live in the town.
So I simply wandered the streets looking for good places to have the thrills and spills, and I drank in the pub used by the main character and his mates. No hardship there.
When did you decide to become a writer?
Eons ago - when I was in my twenties. It has taken a very long time.
Do you have a special time to write or how is your day structured?
I start at eight in the morning and keep going until I run out of coherent words. Then, after lunch, I return to look things over.
Do you write every day, 5 days a week or as and when?
Yes, when I begin a story I write seven days a week until it's finished. Less hours at the weekend though.
Do you work to an outline or plot, or do you prefer to just see where an idea takes you?
It's a bit of both. I start on a railway line, heading in a certain direction, to a roughly known area - but without an actual destination in mind. Almost always, along the way, the points change and I get re-routed.
How do you think you've evolved creatively?
I really don't know. I'm not sure I have. If I have then I think I'm standing too close to see.
How long, on average, does it take you to write a book?
On average, about five months.
Tell us about the covers and how they came about.
My sister is an artist, painting in the cubist style. I like them a lot (and I'm not just saying that for obvious reasons) so I sort of commissioned the covers.
How do you market your books?
I have a couple of free days every year. - and do an interview or two.
What part of your writing time do you devote to marketing your book?
It's not as much as I should: I prefer to write. I need to do better.
What's your views on social media for marketing?
It would be very difficult without it. And I admire all the enthusiastic people out there willing to help others. I've 'met' a lot of nice people.
Is there anything else you would like to add that you haven't included?
Having had my fair (or unfair) share of negative comments, I would say: "Bask in the good reviews as much as you wallow in the bad."